For anyone that wants to know how to get to Mutton Top Cabin, here is a printable paper map with pictures: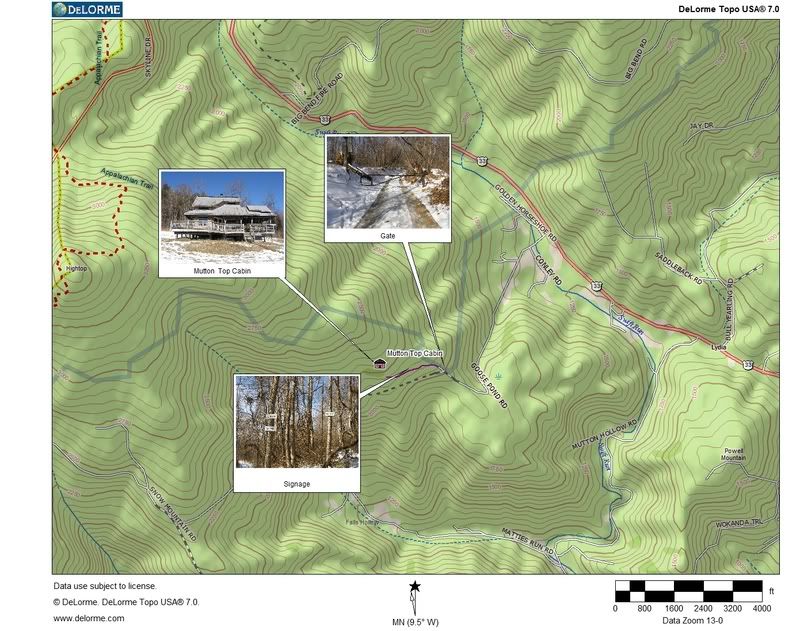 Here is a Google Map:
View
Mutton Top Cabin
in a larger map

Directions:
Go to Stanardsville, VA. Take Route 33 West for 6 miles. Take a left on Goose Pond Road. Drive 1.5 miles until you see a gate. Park your car. Pass gate and walk .5 miles on the road until you see the cabin.
Our fun:
Keith invited several of his friends for a cabin weekend at a PATC cabin called Mutton Top. About 15 people from PATC Cadillac Crew,
HoCo Sierra Club
and
MCOM
. There was significant snow cover on the mountain making the Vining Tract, where the cabin was located, very beautiful. I organized a bushwhack/hike from the cabin to the AT and along some roads. Keith, James,
Lisa
and myself used the
PN20 GPS
to get from the cabin to the AT and then down some roads. It was a lot of work to figure out where we needed to go to get up on the ridge but once I had everything planned the hike went very well. We found some coyote and bear prints in the snow, as well as some bear hair left on a fence. Keith found the bear den and wanted to say hello to the bear but I strongly suggested we move along, I want to wait a bit to have my inevitable first bear interaction for 2008.
Everyone left on Sunday and I opted to stay another day to close up the cabin. When I woke up this morning, Monday, it was 0 degrees in the cabin and the olive oil froze. In the slideshow I have some pictures to prove I cleaned that cabin spic and span. Keith did a great job with the organization of the weekend and a very good time was had by all.