The number of homicides is exploding along Moravia Road in the Belair-Edison neighborhood of Baltimore City.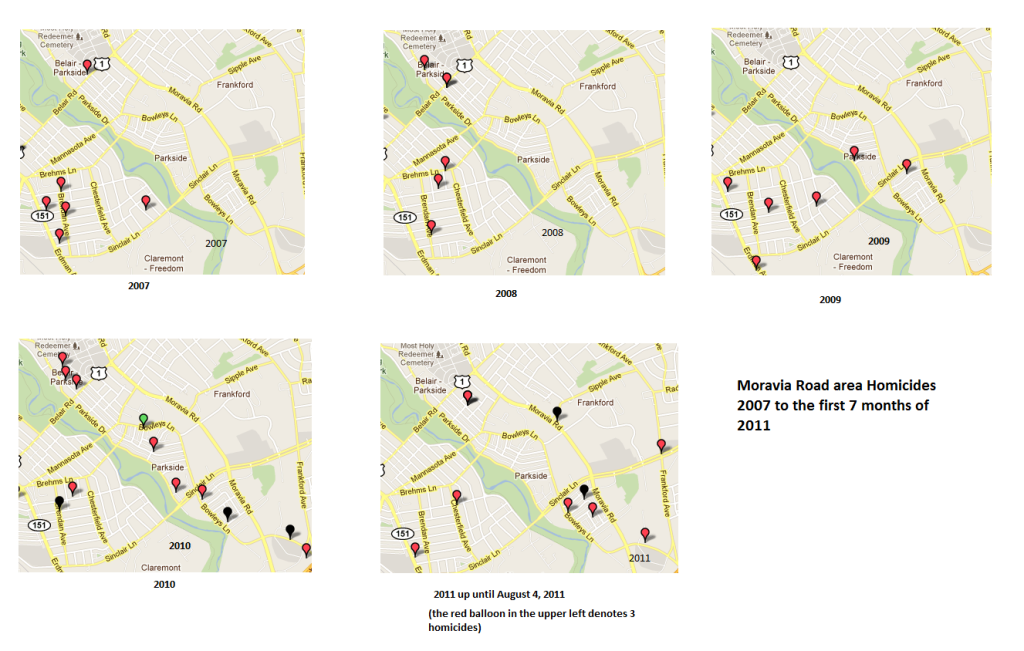 Total 2011 Moravia Road Homicides may be viewed on this map:
A possible explanation for this marked increase in the region's homicides is this neighborhood's proximity to major highways that run north and south, and easy-on easy-off exit and entrance ramps. Drugs make their way along I-95, the beltway and tunnel thruway. Because the drugs often arrive close to a highway in bulk, the purity level is high. Drugs become diluted as they change hands and travel further away from the main courier arteries, as dealers add cut and filler to drugs. This area is fast becoming an ideal place to interact with the drug trade.
Also, this Baltimore neighborhood has a number of older citizens living in the immediate area as well as Dundalk and Essex that are a growing market for drugs. Pain medication in the form of pills and heroin are popular in this area of Baltimore City.
The drug trade is often a source of violent crime and violent criminal acts. Another neighborhood which is experiencing an increase in the number of homicides is Baltimore's Brooklyn Park/Curtis Bay which has similar challenges.
Click on this link for a list of
the 2011 homicides in Baltimore City.
Here are some interesting studies regarding Baltimore City Homicides:
Baltimore Homicide Statistics - Gender Comparison of Victims
Baltimore Homicide Statistics - Comparison of the Age Ranges of the Victims